The Irresponsible is the first episode of The Fabulous Land of Bubblegum.
The Irresponsible
Season 1, Episode 1
Air date
April 10, 2012
Written by
Jeremy Caba
Episode guide
Previous
Pilot
Next
The Tape
Can Bubblegum and Darlene babysit their little brother while their parents go to a PTA meeting?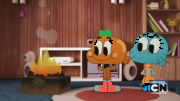 The gallery for "The Irresponsible" can be found here.